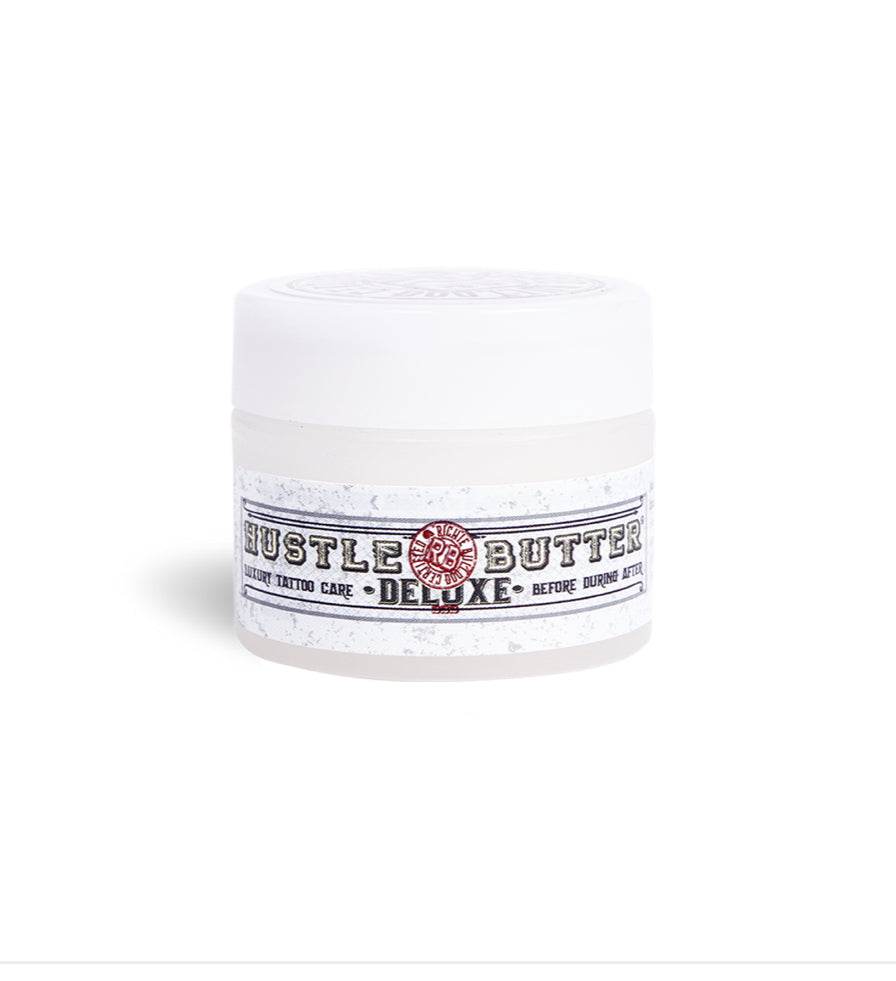 Richie Bulldogs Hustle Butter Deluxe 30g
Meet Hustle Butter Deluxe®: The 100% vegan replacement for all petroleum-based products, expertly developed as a premium tattoo lubricant to use before, during and after the tattoo process. It's pure hustle.

Largely hailed as the superior tattoo aftercare product among tattoo artists and clients, Hustle Butter is your go-to when tending to any swelling, skin inflammation or irritation — and providing instant relief to dry, cracked skin.

Luxurious and rich in texture, combining all-natural ingredients – Hustle Butter prepares and promotes long-lasting, healthy-looking skin for a lifetime of vibrant colour and smoothness.

Hustle Butter Deluxe® Tattoo Ointment is made from: Mango, Aloe and Shea Butters, Coconut, Rice Bran and Sunflower Oils, Rosemary Oleoresin, Green Tea, Vitamin E Complex & Mint Arvenis Essential Oil. With Essence of Papaya and Coconut.
THE HUSTLE BUTTER RUNDOWN
Won't remove stencils when tattooing
Skin remains workable and combats over-worked highlights
Helps colour go on easy when tattooing
Replaces the need for any petroleum-based products
No more petroleum build up or clogged tubes.
Perfect for dry and irritated skin, rashes, and chaffing
Non-Comedogenic
Certified Cruelty-Free
Phthalate Free
Certified Vegan
All-natural ingredients
HOW TO USE
Hustle Butter Deluxe® tattoo ointment can be used before and during tattooing, and as a tattoo healing cream. Simply apply to the skin to heal and moisturise. You can then continue to use Hustle Butter Deluxe® daily, even after your tattoo has healed – keep skin sufficiently hydrated and healthy to keep tattoo colours bright.
Richie Bulldogs Hustle Butter Deluxe 30g